+1(604)-591-3818 | Suite #200-11957, 80 Ave Delta, BC, Canada.
Manitoba Provincial

Nominee Program(MPNP)

Manitoba is a Canadian province bordered by Ontario to the east and Saskatchewan to the west. It is one of the three prairie provinces and is the fifth-most populous province in Canada

The economy of Manitoba is a market economy based largely on natural resources. Agriculture, mostly concentrated in the fertile southern and western parts of the province, is vital to the province's economy. Other major industries are transportation, manufacturing, mining, forestry, energy, and tourism.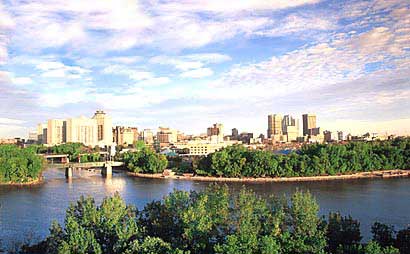 The MPNP is Manitoba's Provincial Nominee Program. Through this program, prospective candidates with the necessary skills and experience may receive a Manitoba Provincial Nomination Certificate, speeding up their immigration process to Canada.
Manitoba has an Express Entry category, which coordinates with the federal Express Entry immigration selection system. The candidates nominated through Manitoba Express Entry category, will receive an additional 600 points under the Comprehensive Ranking System and will receive an invitation to apply for permanent residence with the next draw of invitations from the Express Entry Pool by Citizenship and Immigration Canada (CIC). CIC is committed to processing these applications within six months or less from the date the application is submitted.
There are three streams through which candidates may immigration to Manitoba are as follows:
Skilled Worker
The MPNP selects skilled workers according to their ability to economically establish, to make a long-term contribution to the Manitoba Labour market. The Skilled Worker categories works through an 'Expression of Interest' system, whereby eligible candidates create a profile by completing a series of online questions.
The profile will be placed in the pool with other candidates and you will receive a score based on the information provided by you. The MPNP ranks the candidates you using various factors. Only the highest-scoring candidates, may be invited to submit an application to the MPNP (Based on the set score at the time of the draw). There are no limits on the number of candidates who may submit an Expression of Interest and there are no deadlines either.
The Manitoba Skilled Worker Category has two pathways to apply under & both of these operate under the MPNP Expression of Interest System.
Skilled Workers Overseas
Manitoba Skilled Worker overseas category uses a points-based system to assess candidates, this category is for skilled workers outside Canada. Applications are accepted from qualified skilled workers who can demonstrate a strong connection to the province through family or friends (Manitoba Support), past education or employment (Manitoba Experience), or by invitation of the MPNP (Manitoba Invitation), and for those who score a minimum of 60 points according to five eligibility factors: age, language proficiency, work experience, education and adaptability.
Click here to learn more about the Skilled Worker Overseas immigration category.
Skilled Workers with Employer Support
Individuals who wish to invest in Manitoba can do so through this stream. This process operates on an 'Expression of Interest' system, whereby prospective applicants submit their intention to apply to the program, and the most qualified are invited to apply for immigration.
To read more about the MPNP Business Investor stream, click here.
Business Investor
New Brunswick accepts applications under this category from individuals who plan to own and actively manage a business in New Brunswick. Applicants are expected to make a monetary investment in the business.
Click here to learn more about the NB PNP Business Immigration Stream.
Morden Community Driven Immigration Initiative
One particular initiative for immigration to Manitoba is the Morden Community Driven Immigration Initiative. This rural town, situated 112 km southwest of Winnipeg, is actively looking for new immigrants in certain occupations. Immigration to Morden is conducted through the MPNP.
To read more about immigration to Morden, Manitoba through the MPNP, click here.
Free

Consultation

Relocating to another country and starting a new life is a challenging decision. Canada is a great country to live in, yet starting up all over in Canada too involves many challenges and uncertainties. The process might be cumbersome and sometimes quite complex that requires expertise to deal with.

At Noaisys we simplify your immigration process to Canada.
Contact…